Published 18th February 2021
Blockchain Branding Guide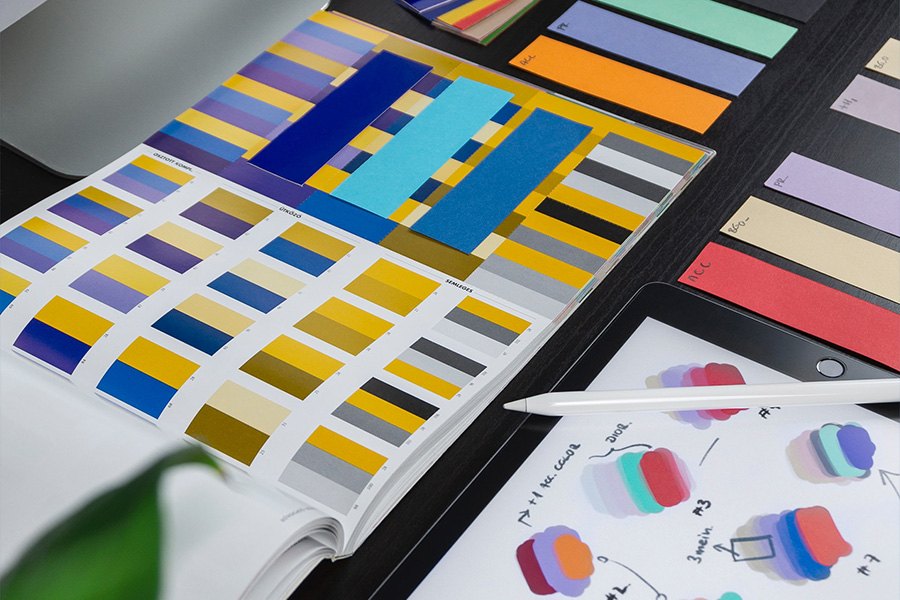 What makes a great Blockchain Brand? We take a look at some of the key elements to developing a strong brand and what you can do to give yourself an edge.
With so much competition within the Blockchain space, it's important to get your branding on point. After all, you may have unique ideas, but it's your branding that will visually put you above the rest and help you to stand out.
To have a successful blockchain brand, all your branding assets have to give off the right impressions. Your brand visuals need to convince consumers that your brand is safe, trustworthy and offers high-quality services.
One important detail, especially within the blockchain industry, is to make sure your brand is approachable and educates your audience about your services. Consumers are easily switched off if your brand appears unapproachable or if they don't know what it represents.
When it comes to developing your branding, you need to consider a range of things such as: a logo; colours; typography; tone of voice; and which brand imagery you're going to use.
Logo
A logo is one of the first things a consumer identifies when interacting with your brand, therefore it needs to perfectly encapsulate your brand values.  The icons, colour and typography within your logo should combine and work together to give a visual representation of what your brand stands for.
As blockchain platforms are digitally based, almost all blockchain brands have both a combination and brandmark logos which enables their logo to be applied across different applications within the web and social media. When it comes to the logo design, the more intriguing the design, the better.

One example of a visually pleasing logo design is Maker. Maker utilises the shape of a block, representing a blockchain, but presents it visually to appear like an 'M'. The combination mark features the brand name alongside its icon. Alternatively, their brand mark consists solely of the icon, which perfectly manages to represent both the blockchain industry and the initial of their brand name.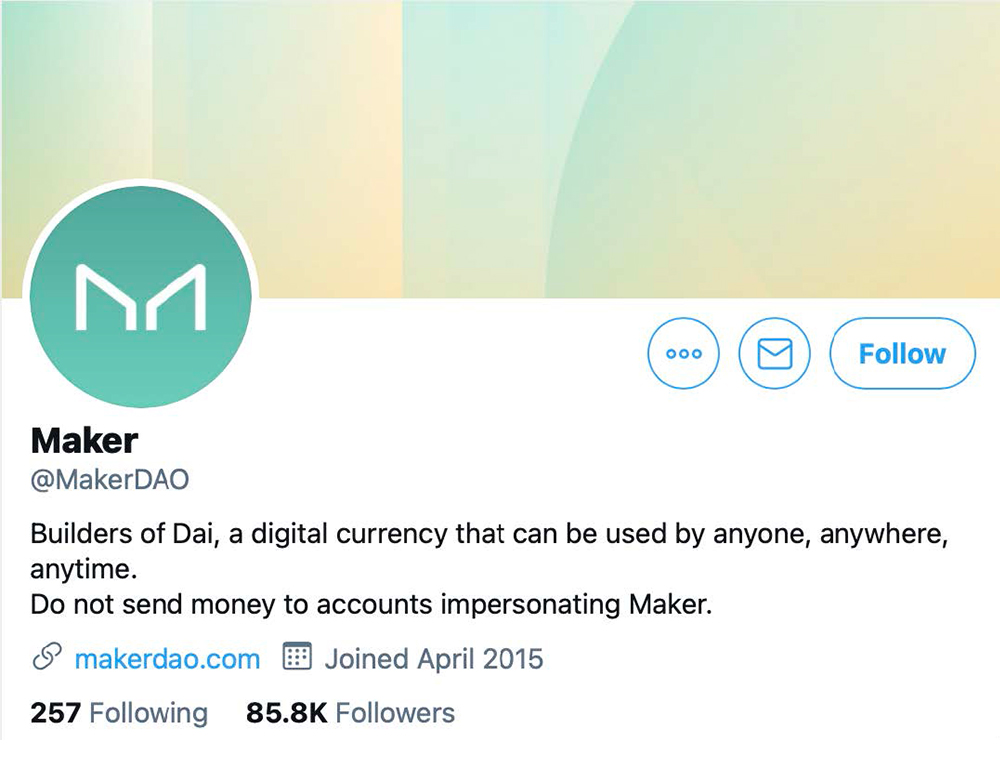 The Graph also successfully showcases a visually pleasing logo within their brand. The abstract shapes combine to visually represent a lowercase 'g'.  Like other blockchain brands, The Graph also utilises a brand mark within their branding to carry their brand across different platforms.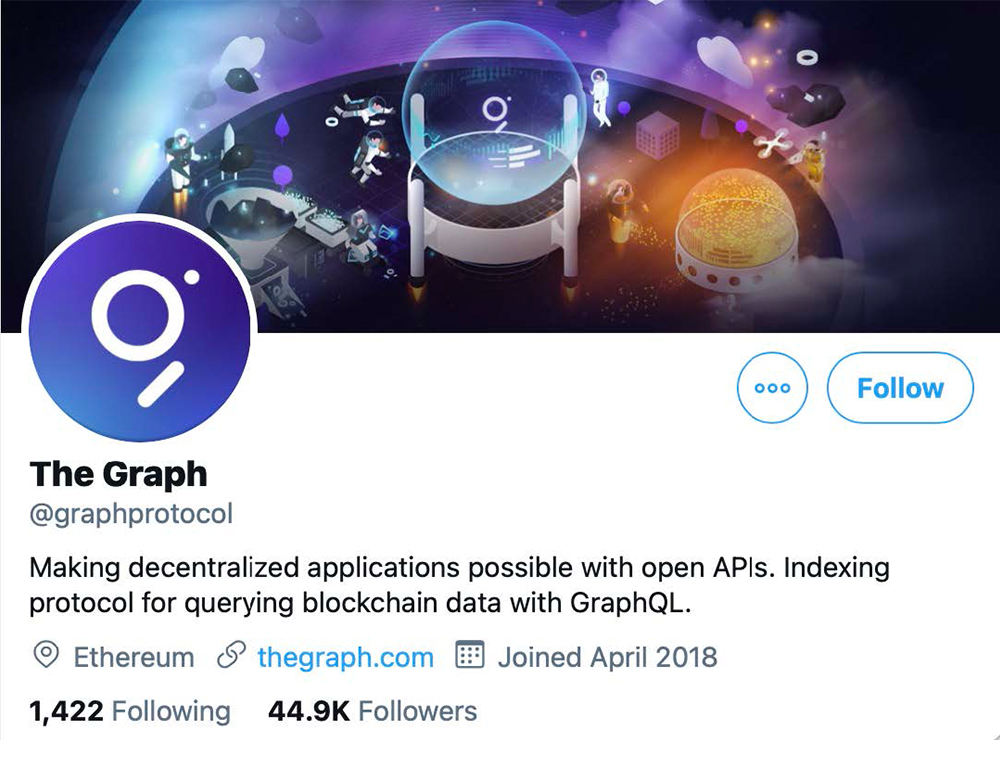 Logos are a key aspect of blockchain branding.  Due to the digital nature of blockchain, blockchain brands rely heavily on their logos. Where a retail brand may be identifiable via their packaging, blockchain brands are visually identified through their logos and therefore it's important that your logo is visually strong and appealing.
Colour
The second most visually important aspect of your brand is colour. Colour is a powerful tool in helping convey brand values. When thinking about what colours you want to represent your brand, take inspiration from colour psychology and meanings to help you in selecting those colours that represent what your brand is all about. Unlike other industries, the blockchain is full of brands with different colours threaded through their visual identity – therefore, there are no limits as to how much (and which) colour you can inject into your brand.
When considering colour choices, keep in mind these colours won't only feature in your logo. The colours you choose will eventually spill out into other aspects of your brand, whether that be within your visual imagery, your website background or your social media banners.

Ocean Protocol offers a fresh take on colours used within blockchain branding. They stray away from the standard muted colours used within digital brands and instead combine black with pinks and purples. The black shades used within the branding help establish a feeling of power and formality, whilst the pinks and purples help bring it down and notch and provide the perfect balance of playfulness. Meanwhile, the white backgrounds bring a sense of simplicity.
On the other hand, Cosmos, relies heavily on dark backgrounds, with pops of blues and purples featured within their branding. The dark backgrounds help provide a feeling of power, with the brighter blue and purple shades giving a reassuring feeling of confidence to the consumer.

Typography
When choosing which fonts to use within your branding, consider their appearance. The typography needs to be legible enough, otherwise, people will be put off your brand if they struggle to decipher your text.
Just like colour, typography can represent brand values and attributes. Serif fonts initiate feelings of trust and respect due to being deemed a 'traditional' choice of style. On the other hand, sans serif fonts are regarded as the more popular choice and give off a modern impression and feelings of something being approachable and straightforward.
The popular typography choice within blockchain branding is to use sans serif fonts to represent the modernness of the industry. However, Blue Hill Mining challenges this convention by featuring both serif and sans serif fonts within their branding.  A serif font is used in their logo, whereas sans serif fonts are used throughout the rest of their branding – therefore, balancing the values represented by both font styles.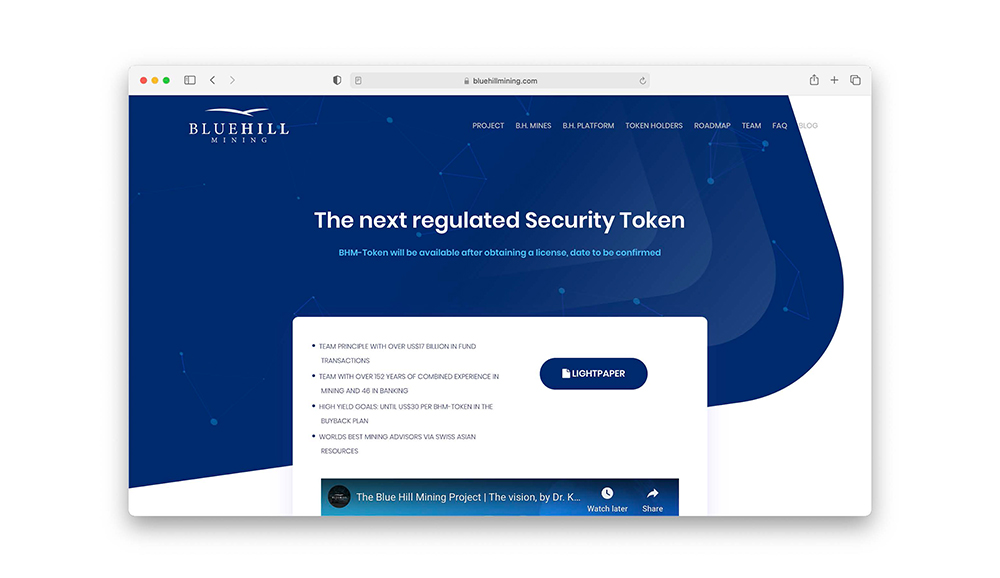 Neo, alternatively, relies solely on sans serif fonts throughout the branding to establish a sense of modernness and simplicity.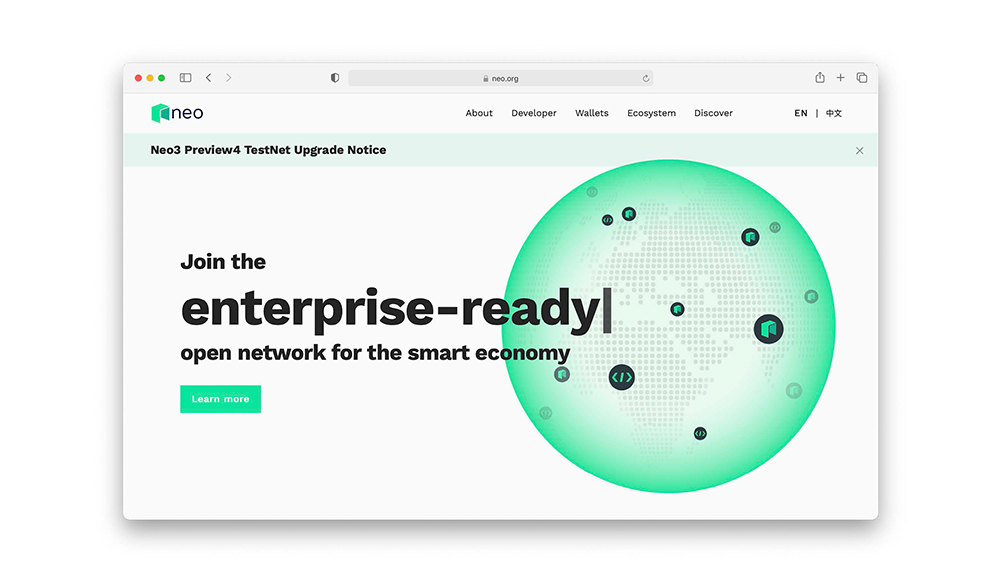 Tone of Voice
Deciding which tone of voice to use within your branding is important in helping interact and build a relationship with your consumers. To nail the perfect tone of voice for your brand, it's important to research into your audience. These are the groups of people your brand will be striving to engage with, therefore you need to know how to approach them.
A quick tip: Imagine the brand as a person and that'll influence your tone of voice. Think of their personality traits and how would they act? Now imagine that person is in charge of writing all your copy.
When it comes to blockchain branding, nailing the tone of voice is essential. Most of your interaction with customers will be through digital and social media platforms and therefore your copy needs to be written in a tone of voice that comes across as well as it can.
One example of a blockchain brand that utilises its tone of voice exceptionally well is Blockfolio. They successfully use their tone of voice on platforms like Twitter to engage and interact with their consumers. Blockfolio's tone of voice is approachable and humorous.

Contrastingly, Coinbase offers a more formal tone of voice. Looking at Coinbase's Twitter page, they only chose to interact with their audience if making an announcement or sharing blockchain-related news.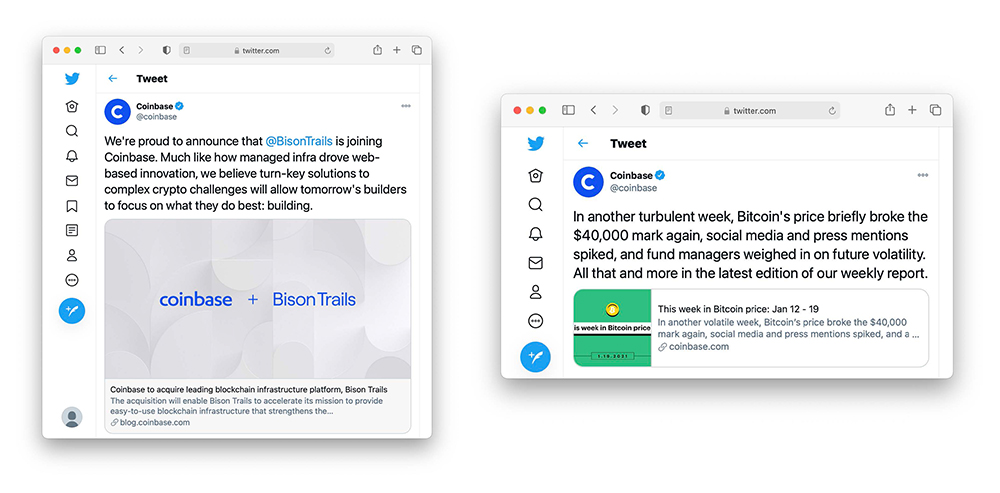 On balance, both brands have a tone of voice specific to them – and they both work well. It's all about knowing your audience.
Brand Imagery
Your logo isn't the only visual piece of branding that you'll be relying on. Making sure you have consistent and relevant brand imagery is key. This covers anything visual that you choose to use within your brand, whether it's vector icons within your website or photographs and illustrations that you use within blogs and social media.
A brand that has consistent imagery gives off the impression it's got its act together. It comes across as reliable when all your brand imagery is matching or follows a certain set of rules. Consumers are more likely to buy into a brand that has matching visuals over a brand that doesn't.
Ethereum successfully uses consistent brand visuals to tie its brand together. They use their brand colours in vectors and illustrations featured on their website. This ties all the visuals together and gives it a sleek and clean appearance.
Likewise, Chainlink achieves the same effect through the vectors and graphics used within their website.

In summary, when designing and developing a blockchain brand, it's wise to remember that the visuals aspects (including logo, colour and typography) are likely the first encounter any consumer will have with the brand. Therefore, it's essential that your visual brand assets all follow the same thread. If you can achieve this, then the brand will do well.
The blockchain industry is developing quickly, therefore it's becoming even harder to stand out. However, this can all be easily achieved through strong and visually appealing branding.
Are you ready to embark on your blockchain branding journey? Sequence is here to help – get in touch with us!